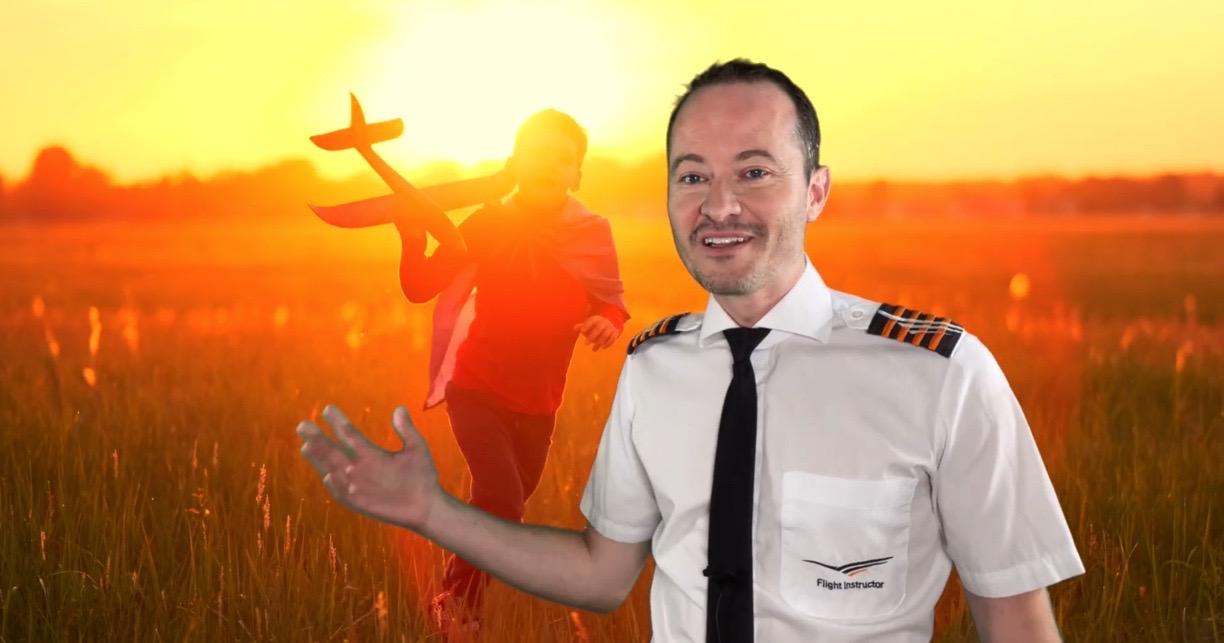 How to become a Pilot: Fall in love with the CLIMB!
2021/09/07 - Kay Vereeken (IG: @europilot)
How to become a Pilot: Fall in love with the CLIMB!
"Learning to fly starts with a dream. In this video, I'll explain how you can become a Pilot, what it takes to achieve your goal. Most importantly, how you should fall in love with the fight to get there, not just the victory at the end."
How it all started
When I was 3 years old, I vividly remember how my passion to become a pilot started and it quickly became clear that I knew very early in life what I wanted to do. Although we all have our dreams and goals in life, the most important thing is to act upon it and have no regrets. We've all been given a chance in life to enjoy what we love the most, and the key to real happiness is to care about what's true, immediate and important.
A dream
So, it all starts with a dream… however achieving your dream to become a pilot, quite frankly will not always be easy. So if you want to learn to fly, whether it is for fun or for professional reasons, the question you have to ask yourself is, how badly do you want it? In other words, you need fall in love with the fight, not just the victory at the end, when you finally get your Pilot License. To say it in aviation terms, make sure you LOVE the Climb!
This is why EuroPilot Center is the right partner, because we understand that, no matter how hard you want to learn to fly, you will have to overcome certain hurdles,… everyone does.
Talent does not exist, it's the work and effort you are willing to put into it that makes you outstanding.
So how do we do this? First of all we look at your Personal Goals, we listen and provide you with a path to achieve this goal. That's our commitment.
Thanks to this strategy, our students have been successful in achieving their dream, because we don't give up on you. Our team of full-time instructors and aviation coaches are dedicated to provide you the very best training experience, so you can fall in LOVE with the Climb and reach your cruising level at ease.
By using the most advanced training methods, involving Video Lessons through our Apps, the use of in-house developed iBooks and interactive classroom sessions, you will achieve the highest level of learning during your ground-school. Not only very rewarding but also, a lot of fun!
Our Fleet
Since EuroPilot Center has been a 15 year long Cessna Pilot Center, we operate a fleet of 6 brand new Cessna Skyhawks, a Diamond DA42 all with the very latest Garmin G1000Nxi System and integrated GFC700 autopilot systems, which is key to safety and succes in this rapidly evolving aviation world. Using Electronic Flight Bag systems is not just something of the future, but the norm within EuroPilot Center.
The use of advanced Flight Simulators, plays a crucial role during all training operations at EuroPilot Center. We have 6 approved Flight Training devices, including 4 full-motion Redbirds, 1 Diamond Da42 Type Specific Sim and 1 I-JET for the APS/MCC program. You'll achieve a much higher level of Airmanship and Risk Management, but it also guarantees that you have no gaps in flight training cancellations, due to bad weather. Beside this, all our simulators are available to our students for self-practice so you can study alle exercises at your own time and pace 24/7. This will reduce your training cost by at least 25% to 30% compared to other training organizations.
Training locations: Belgium and Southern California
IPCA has two training locations, one in Belgium and one in Southern California. Both locations are owned and operated by Europilot Center Staff.
Why do we offer training in California as well? To put it very simple, because it's by FAR the very best location to fly. Starting your program in Antwerp, prepares you for a more intense flight training course in California and increases efficiency and reduces the cost.
Starting your journey!
So now it's time to start YOUR journey.
You have decided to become a pilot, you just need to figure out what your goal will be. Our Aviation Coaches are ready to assist you and help you in selecting the program that is right for you based upon 15 years of experience.
If you want to become an Airline Pilot, our ALL-IN Airline Career Program is the best option for you. You can choose between our full-time program or our part time program. The full time program gets you Airline Ready in about 20 months.
What makes EuroPilot Center different is that you will train in smaller groups of 4 to 10 students, and that you will fly from DAY ONE. The first 4 months take place in Belgium, followed by a short but intense 90-day program in Southern California. Thereafter, you finish the training in Belgium.
In order to start your Airline Career Program, you'll have to pass our Online PELICAN Screening and Simulator Assessment. But don't worry, you'll get all the tools to prepare by means of our Video Streaming App… best of all: it's FREE!
If you are a licensed pilot, or you want to reach your goals step by step, the EuroPilot Center FLYCHAIN offers a great path. It enables you to benefit from previous flying experience, and provides you with the best training in Belgium and optional short stays in California, to optimize your efficiency. We take into account your availability, schedule and take care of literally everything.
Time to fall in love with the CLIMB!
I am sure that you're even more excited now to get started, and on behalf of the entire EuroPilot Center team we're looking forward to meeting you during your first training session in Antwerp & California!
By: Kay Vereeken – CEO/Founder IPCA
IG: @europilot